Scheduled Events
Saturday - September 11th 2004
JSGames is holding a tournament on September 11th at The Park @ Oak Forest Bowling Alley, Oak Forest, IL.
30$ Entry fee per team. Part of the fee goes towards 4 hours of draft beer.
Registration starts at 3:00.
15420 Cicero Ave. Oak Forest, IL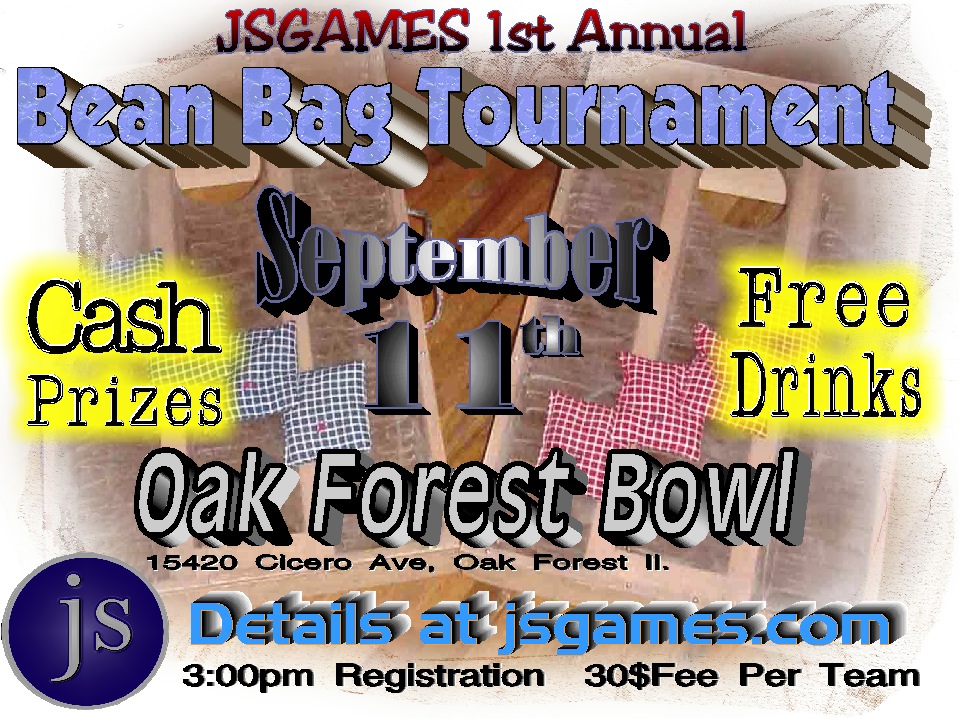 Previous Events
June 28, 2003 - www.originalbeanbaggame.com held the first MWBBA sanctioned tournament ever. There were 24 teams competing for a top prize of $270.00, with 2nd place taking $110.00, 3rd place $50.00, and 4th place $25.00. Send an e-mail to sign up for the notification list and to find out about any upcomming tournaments.
March 19-21, 2004 - Chicago Backyard Show - The MWBBA was invited to host a Bean Bag area at the first ever Chicago Backyard Show www.backyard-show.com co-located with the annual Chicago Golf Show. We had hundreds of people stop by the booth and take a try at the high score contest. Each person was given six bags to throw from on end, the bags were scored, then they threw the six bags back, the bags were scored again and added to the previous score. The most possible points was 36. Our high scorer for the weekend was Tom Yarka from Chicago with 21 points.